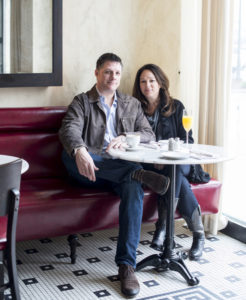 When Stacey and Kevin Jennings arrived in Raleigh in 1998, they brought over 15 years of dedicated hospitality experience combined with them, as well as an insatiable appetite.
Excellent experience in well-known bistros and resort dining rooms, coupled with extensive training under many of the most successful restaurant groups today, defines Kevin's career; while Stacey's is marked by her savvy business sense and flair for Southern hospitality. When the two met in 1990, they'd already begun to imagine themselves as restaurateurs. In each other, they found the missing partner – Stacey provided the business acumen and welcoming personality and Kevin the culinary vision and drive.
Their well-rounded experience includes a long list of Southeastern favorites. Kevin spent two years in Atlanta at The Tavern at Phipps while Stacey managed The Mellow Mushroom. As she continued to investigate a pizza eatery of their own, Kevin, eager to master the art of fine dining, pursued work as a Bartender & Maitre d' at Atlanta's Relais & Chateaux property, The Ritz Carlton. There, he observed exceptional cuisine, thoughtful wine paired dinners and professional service, unmatched elsewhere in the Southeast. With his wine key and knowledge polished, he left a year later, certain that their own restaurants would mirror more of a bistro than a 4-star dining room. Stints at the stylish Italian Pricci, and the bustling Tom Tom A Bistro, enabled Kevin to identify the philosophy that what would become the cornerstone for their future business – offer exceptional value by combining superb quality with reasonable prices.
In 1995, the couple moved to Charleston, SC guided by their dream of becoming restaurateurs. While plotting and planning, Kevin continued to gain valuable fine dining and management experience at the five-star Woodlands Resort, Magnolia's, and Union Hall, working alongside some of the most talented chefs and restaurateurs in the Southeast. Stacey joined Charleston's renowned Blossom Café, where she enjoyed the sheer professionalism shared by staff, chefs and owners alike; standard she upholds today. In Charleston, the Jennings found something else they'd carry with them into their dining rooms – genteel hospitality.
Intrigued by the energy of college towns, they set their sites on various cities around the Southeast, and in 1998 settled in Raleigh, NC. Seeking local flavor, Kevin went to work at Nana's in Durham, where he developed a passion for local ingredients and reaffirmed his belief that offering an exceptional dining experience required not only superb service, but also unique culinary talent in the kitchen. Immediately, they began recruiting for the position.
Five successful years later, the Jennings responded to their customers demand for an upscale bistro, and with a second restaurant in mind as well, they first opened Porter's City Tavern in 2003, designed as a neighborhood restaurant serving well-prepared comfort food, and then re-designed the menu, décor and overall experience at Frazier's. When it re-opened in September 2004 with a globally-inspired bistro menu and an updated urban-chic interior, customers from well beyond Hillsborough Street became fast fans.
Stacey and Kevin Jennings next opened Vivace, a Tuscan-inspired trattoria in October 2005 in Raleigh's Lassiter at North Hills area. The success of Vivace inspired a second North Hills area project, Coquette, the area's only true French brasserie.
One restaurant at a time, Stacey and Kevin Jennings are elevating the dining landscape in Raleigh.